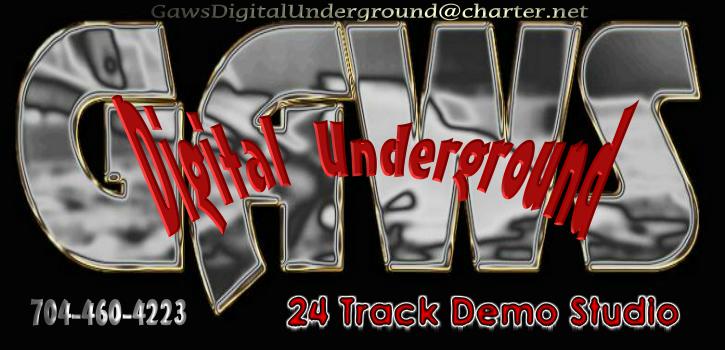 Prices
$20.00 per hour - Recording, Editing, Mixing.
$20 per hour Mastering
We're sorry, package deals are no longer available
Outside Professional Mastering available through Studio B Mastering.
$100 non refundable deposit required to book a date, (your first 5 hours) If you don't show (without a courtesy call) for the session, deposit is forfeited. 24 hours noticed required to change a date.
704-460-4223
GawsDigitalUnderground@charter.net
Analog tape conversion to CDR $25/hr CDR one off's $5 ea. Short run CD duplication Complete CD duplication Services
Artwork/Packaging, shrink wrapping / bar coding, Posters, Stage Banners, Website and Online T Shirt store
Outside Mastering available at Studio B Mastering Free "Get to know you" studio tour
On Site Mobile Recording available. Radio Promo Ad's Special rates for Church groups, Schools, and non profit organizations
----------------------------------------------------------------------------------------------
Disclaimer- Here at the Digital Underground we strive to get you the best sound possible. However, we aren't responsible for the quality of your equipment used on your cd. A $500 drumkit and old cheap cymbals, won't sound like a $15,000 set of Yammies period. Drum heads should be new and drums in tune before a session. Any old and squeeking parts should be replaced. Quality guitars and amps should be used. Guitars should be checked for bad wiring connections, electronics should be in good working order. Strings should be changed, and guitar should be properly tuned and intonated. This is your responsibility. Same for bass guitar and any other instruments used in your project.. The Digital Underground is a Demo Studio, nothing more. What sounds great onstage may not translate well in the studio, and it rarely can be fixed in the mixdown. Nor can we make up for lack of talent. Garbage in/Garbage out. We're not a Million Dollar LA Studio, and you shouldn't expect your cd to sound like it was recorded in one. It is advised that the clients stop by and hear actual samples of recordings done at our studio before booking time, and to plan out the project in advance with the engineer on duty. I don't do this for a living, and you shouldn't have to pay a fortune just for a demo to get club bookings either. So don't.
Studio Rulez.
1.) No Food allowed in the studio at any time.
2.) No Smoking, or Alcohol, or Drugs allowed
3.) $100 non refundable deposit to book a session
4.) Each days time will be paid in advance at the beginning of the session. I f you book 8 hours, you pay for that time before any recording begins.
5.) If you cannot make a booked date, 24 hours notice, and courtesy call is required, or deposit is forfited, and session will be canceled. No shows who don't give a courtesy call to the studio, should look elsewhere to record their project. No exceptions.
6.) When recording a session don't bring your family, friends, or girlfriends to the studio. Band members only Please. No non-essiental personel. Producers are welcome.
7.) The GAWS Digital Underground, accepts no responsibility for gear left overnight in the studio.
8.) Clients are responsible for any damages to equipment at the studio incurred by them.
9.) No refunds.